Design:
Creating environments with intention


Look around you. Almost everything you see has been designed by someone. Your chair. The building you are in. Your clothes. And not just physical things but also all of the services you use and the experiences that make up day-to-day life. How you order and get your food. The mobility and communication systems that connect you with your loved ones.




There are many definitions of and perspectives on design. Many agree that designing is about

creating with intent, addressing needs,

and moving toward

preferred situations.

The

Montreal Design Declaration

, which represents over 700 professional associations, design schools and stakeholders, defines design as "

the application of intent: the process through which we create the material, spatial, visual and experiential environments

".

This isn't just about products or aesthetics. "

Design as a discipline has moved from the traditional concept of the visual or tangible artefact through to orchestrating interactions and experiences, and to transforming systems,

" as

Nesta summarises

.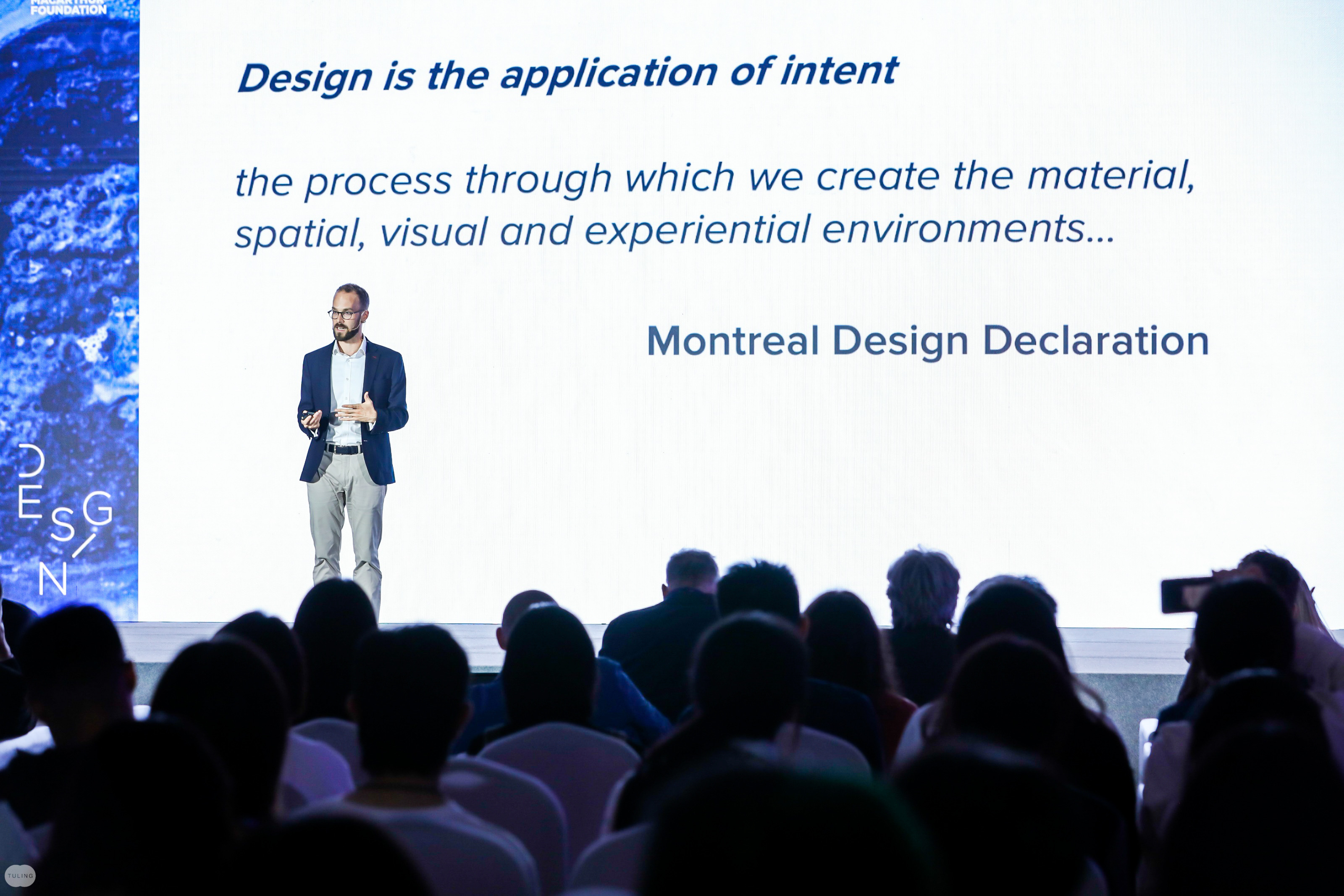 Photo Tongji Design Week 2019



It's not just for people with 'design' in their job titles. Even if you don't call yourself a 'designer', you might still play a critical role in the design stage and determine the attributes and characteristics of future products, services and systems. In fact, at least

one person in every 20

that make up the world's workforce is involved in the design stage and plays a crucial role in shaping our future.

Important choices are made in the design stage. This includes the definition of business models, material choices, and the 2D or 3D aesthetics and functionality of elements, but also the way designs will interact with people and systems along their journey, such as with logistics, collection, and infrastructure systems. In the case of physical products, how different materials are combined and how easily they can be reused, repaired, refurbished, or disassembled is also decided at the design stage. Screws or glues?

These crucial choices radiate across the entire system, affecting sourcing, production, and how we use things. Importantly, they also determine 'what happens next' and what is possible after something has been used. Does it become waste? Or can it be part of a circular economy, where waste is designed out and materials are destined for one valuable application after another?

It's hard to reverse the impacts of design decisions once they are implemented. We can't unscramble an omelette. Design decisions often lead to long-term investments that lock us into a certain model for years to come. The European Commission estimates that "over 80% of all product-related environmental impacts are determined during the design phase of a product"1.



What do we mean by circular design?
Photo by
Austin Neill
on
Unsplash
Circular design is a shorthand for the practice of applying circular economy principles in the design process of everything - from products, to services to systems. It is a practice that embraces systems thinking to address some of the biggest interconnected challenges we are facing today.

Circular design offers a direction of travel towards a world of resilience and regeneration.

A world where we design products, services, and systems with the bigger picture in mind.
A world where we zoom in on user needs while zooming out to consider the system in which we are creating.
A world where we unlock a new frontier of creativity to address global challenges at their root.
Why do we use the term "circular design"?

Most would say that good design naturally leads to a circular economy. Dieter Rams' famous 10 principles of good design, for example, state that good design is long-lasting, useful, innovative, and environmentally friendly.

"If something is not designed in accordance with circular economy principles, it is not professional, responsible design — it is malpractice." — David Grossman, President 2015–2017, International Council of Design

However, it is just not yet happening at speed and scale. Look at design awards, for example, or the celebrated design icons in the fashion, automotive, and furniture sectors; what we praise as 'good design' is rarely working to eliminate waste and pollution, circulate products and materials at their highest value, or regenerate natural systems. Often the opposite is true. As a result, there is an urgent need to increase engagement on this topic and to have a way to talk about it.




Getting started on the journey
What inspires me, besides the vision of a future where life can thrive for aeons, is seeing the incredible creativity of pioneers in this space. Strategies to design for a circular economy come in so many shapes.

Ultimately what matters most is how we bring new mindsets and practices to the table in our individual contexts, and how we collectively evolve our design practices in the coming years. It's an exciting journey, and we are only at the beginning of it.

To get started, we can challenge ourselves to answer important questions in the design process:

How might we address the real needs of our audiences, while at the same time designing with our larger (eco)-systems in mind? How might we rethink and re-design the way we deliver value to people and planet decoupled from linear material flows?
How might we design X such that it becomes food and nutrition in our (eco)-system, rather than waste and pollution?
How might we use design as a force for positive change and address the big challenges of this century, such as climate change, biodiversity loss and co-thriving of AI, humans and other species?

There is no single perfect solution, but wherever we are on the journey, we can iteratively improve our practice. We can learn from each other and raise the bar together.

The Circular Design Circle (CDC) brings together people dedicated to the circular economy transition and passionate about circular design. It is at home at the Impact Hub and is open to anyone.

Learn more here, join us for one of our monthly gatherings or sign up here for more information about events and activities.


Use these resources and tools

As part of the Circular Design Circle, we have compiled circular design resources on this Miro. Here is a short selection:



Circular Design @ Design Prize Switzerland
As nominators at the

Design Prize Switzerland

, Sarra Ganouchi and I are looking for innovative designs and solutions in the circular economy space.


Footnotes
1 European Commission: "It is estimated that over 80% of all product-related environmental impacts are determined during the design phase of a product".
Radjou and Prabhu estimate in their book

Frugal Innovation

that "over 70% of a product's life-cycle costs and environmental footprint is determined during its design phase".